This genuine leather sling bag is designed to wear across the body and is perfect for keeping money and small personal items safe while travelling or going out. 
Specifications:

100% Genuine Leather 

Lined inner

H 20 

cm x L 16 cm 

 

Adjustable shoulder strap

 

2 Separate zipped compartments

 

 
Please note:
Item dispatched within 2-10 working days.
This is a genuine leather item and should be cared for using products recommended for leather cleaning and treatment.
Because leather is a natural product there may be natural blemishes. These should not be misconstrued as flaws, as this is what makes each item beautiful and unique. The actual product colour can vary slightly from online photos and will differ according to screen resolution.
SHIPPING
We charge a Flat Rate of only R70 for delivery to your doorstep anywhere in South Africa
We are affiliated with South Africa's top courier companies and your delivery will be taken care of by either The Courier Guy, Dawnwing or Courier It. 
You'll be notified by email when your order is on its way.
DELIVERY
If your item is in stock we will ship it within 1-2 days of order and payment receipt.
Otherwise it normally takes between 2 and 10 working days as each item is hand made to order. 
If you need your order in a hurry, then please contact us to check if we have stock or if we can help. 
Mim is renowned for making a plan to assist, so contact her on 0829025591 or mim@mirelle.co.za
Is it safe to buy on the MIRELLE Leather website?
Yes, it is safe. All payments are done through a secure, trusted payment gateway using the South African Payfast interface. MIRELLE Leather does not keep any of your personal credit card information.
What are my payment options?
If you don't want to pay online and would rather do a direct EFT or ATM payment then that's fine! When you get to checkout there will be choices including one that says, "pay by normal eft". If you click that and complete your purchase, then banking details will be given to you. You simply need to do the EFT payment and email us the payment details. 
You can also do a payment at any FNB ATM.
Then there is Zapper, SnapScan as well as the Mastercard, Visa credit cards, Instant EFT, Masterpass.
If you'd prefer to pay in instalments, then there is a credit facility called Mobicred and digital payment method Bitcoin.
What is your delivery time?
We dispatch within 2 to 10 working days. Each item is handmade, and we don't always carry stock. If you are needing the item urgently then please reach out to Mim on 082 902 5591 or online@mirelle.co.za and we'll try our best to assist.
How do I get my order?
We send your order using door to door courier service of either The Courier Guy, Dawning or Courier It.
What are the shipping costs?
We charge a flat rate of R70 anywhere in South Africa. (Cheaper than a drive into town :-))
How long does shipping take?
If you live in one of the main areas it will take 1 to 2 days from dispatch
If you live in a regional or remote area then it may take a little longer so work on 1 to 3 days from dispatch
Where is your leather sourced from?
We strongly believe in local and the leather used is sourced from various areas within South Africa. Hides, skins and leather are by-products of farming stock and wild animals bred primarily for meat consumption. Thus, leather is a by-product and from hides and skins that are recovered from slaughterhouses and farms.
My order was delivered, why does it look different from the website?
All of our products are individually made, one piece at a time, hand stitched and finished by hand, therefore each product may differ slightly from the next.

Because leather is a natural product there may be natural blemishes. These should not be misconstrued as flaws, as this is what makes each item beautiful and unique. The actual product colour can vary slightly from online photos and will differ according to screen resolution.
How do I best take care of my leather?
Use a damp cloth to wipe and get rid of any dirt. Don't use soap or chemicals.
Use Leather Conditioner or cream moisturisers so that it doesn't dry out and crack.
You can use Polish which mainly gives the leather a shine and partially protects.
Ensure that your Leather can breathe and don't leave it sealed away anywhere.
Store it in something or somewhere where there is airflow.
Keep leather away from direct sunlight/heat. If it gets wet rather let it dry naturally. If exposed to heat it could shrink.
Leather fades naturally over time, and sunlight and heat speed up that process.
Genuine leather items should be cared for using products recommended for leather cleaning and treatment.
If you have any specific enquiries about the leather we use or caring for your product, please contact us on online@mirelle.co.za or 082 902 5591
Are the colours of your leather products exactly as shown on this website?
Leather is a natural product so there may be some variations in colour tone and shade as each batch differs slightly. While we try to keep our images up to date and to reflect an accurate depiction, the hides do differ slightly. Colours also show up differently on different computers and screens.
What is your returns policy, and is there a cost involved?
Yes, we have a 100% refund policy. If you're not satisfied with your order you can return it within 7 working days, and we will refund you excluding the original cost of the shipping (R70). We can arrange the shipping for you if you'd like. What we'll do is arrange for one of our courier affiliates to collect it and return it back to our offices. They will bring a flyer bag with them. If the item doesn't fit into a flyer bag we ask if you could please pack it into the smallest box possible. You would be notified by mail and kept up to date as to when they will be collecting.
Can I exchange my item?
Yes you can exchange your item within 7 working days of receipt however, the shipping cost will be charged to you. It is a flat rate of R70 which is below the actual cost so we subsidise some of it but unfortunately, we can't cover the entire cost.
Processing of returns, including acknowledgement of receipt of return form submitted, collection of the return and delivery to MIRELLE Leather can take up to 7 business days from date of submission.
Customer Reviews
08/13/2020
Bianca
South Africa
Surprise Gift
I was surprised today with this amazing little Number! Thanks to my sister, who took a joke serious! wow! you left me speechless today! Thank you #MirelleLeather for such an outstanding locally made product, the leather is so soft and all my much needed everyday items fits like a glove in this Bag - with plenty of space left for added extras. Everything is so much easier to find, and such a classy sleek bag to be out and about with. I feel like a million bucks today! I would definitely recommend getting this for a Gift, or a special someone! #SoWorthIt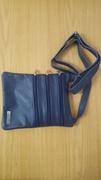 08/13/2020
Lisa L.
South Africa
Sling bag
Great quality and perfect size. Love it! Great service too!
07/06/2020
Suwayba A.
Durban, KwaZulu-Natal, South Africa
Great quality, excellent service, beautiful bag.
06/22/2020
Lorraine N.
South Africa
2 pocket cross body bag
Makes life easy and fashionable!
Feedback Mini 3 Pocket Crossbody Bag
I love my bag to bits. I use to it every day. Its perfect. Now i dont carry unnecessary stuff anymore. My little mini me will be wearing the smaller one for Eid day Im saving for a red and black one ;) Thank you guys, i can see the bag is made with lots of love!!!
Safe Checkout Guaranteed
Your payment information is processed securely. We do not store credit card details nor have access to your credit card information.